I did indeed finish my Bluebell socks yesterday (erroneously identified in yesterday's post as Honeycomb socks), and had a photo-shoot.
Honeycomb to the left, Bluebell to the right. They look very happy together, don't they? The "Two-Fer" pattern will be available for sale from The Loopy Ewe soon.
I started knitting a sock with the Numma Numma "The Usual" that Allen gave me at the Spring Fling. (The colorway is indeed "Cherry on Top," as correctly identified by clever reader Frances. Hey, Frances!)
This is awesome yarn, people. It's a new base for Numma Numma and I love it. I also love the semi-solid nature of this colorway. It's variegated enough to add some interest to the plain bits:
And solid enough so that fairly fancy stitchwork shows nicely.
This new sock needs a name. Whaddya think I should call it?
Just for Fun
I saw this on a blog today, so of course I had to take the quiz.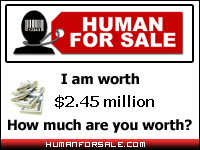 HumanForSale.com – Anti-aging
To answer one of the questions in the above quiz, I had to take this quiz: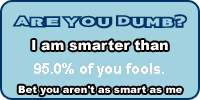 Am-I-Dumb.com – Intelligence Test
The graphic is somewhat offensive, but marginally amusing, I think.
I'll take that $2.45 million in small bills, please.
Lucy Sez
"I'm smart enough to know it's time to eat!"